ICF Community Wellbeing is a prizewinner in the nomination "Expenses directed to economic development" of the Ukrainian Philanthropists Forum
07.10.2018
In addition to ICF Community Wellbeing recent achievements in the nominations All-Ukrainian Charity and Peoples Charity of the National Contest Charitable Ukraine – 2017, ICF Community Wellbeing becomes a prizewinner in the nomination Expenses directed to economic development of the contest organized by Ukrainian Philanthropists Forum 2018 ( http://ufb.org.ua/ ). All qualified participants are displayed at the map available at http://ufb.org.ua/rating/blago-map .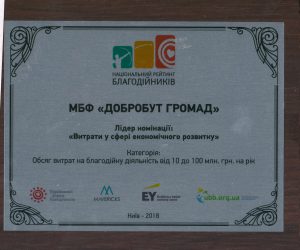 Recognition by the contest, whose main criteria are transparency of reporting and openness of the organizational activity, is another evidence of ICF CW remarkable contribution into Ukrainian rural communities development.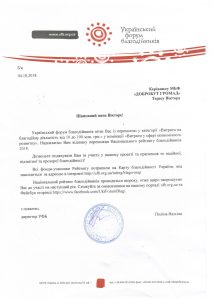 We are extremely grateful to project donors – Danone Ecosystem Fund, Heifer International, USAID, SOCODEVI/Canada, EBRD, MinAPF, to our implementing partners – Dnipropetrovsk agricultural advisory service, Cooperative Union Hospodar, Danone Ukraine, project participants and also all concerned people, which continue to support us despite complicated situation in Ukraine. We realize, that it would be impossible without our partnership and your personal valuable contribution in the implementation of our joint projects – Ukraine Milk Communities, Strawberry Communities, Development of family farms united into coops and Cooperative learning farm and services.